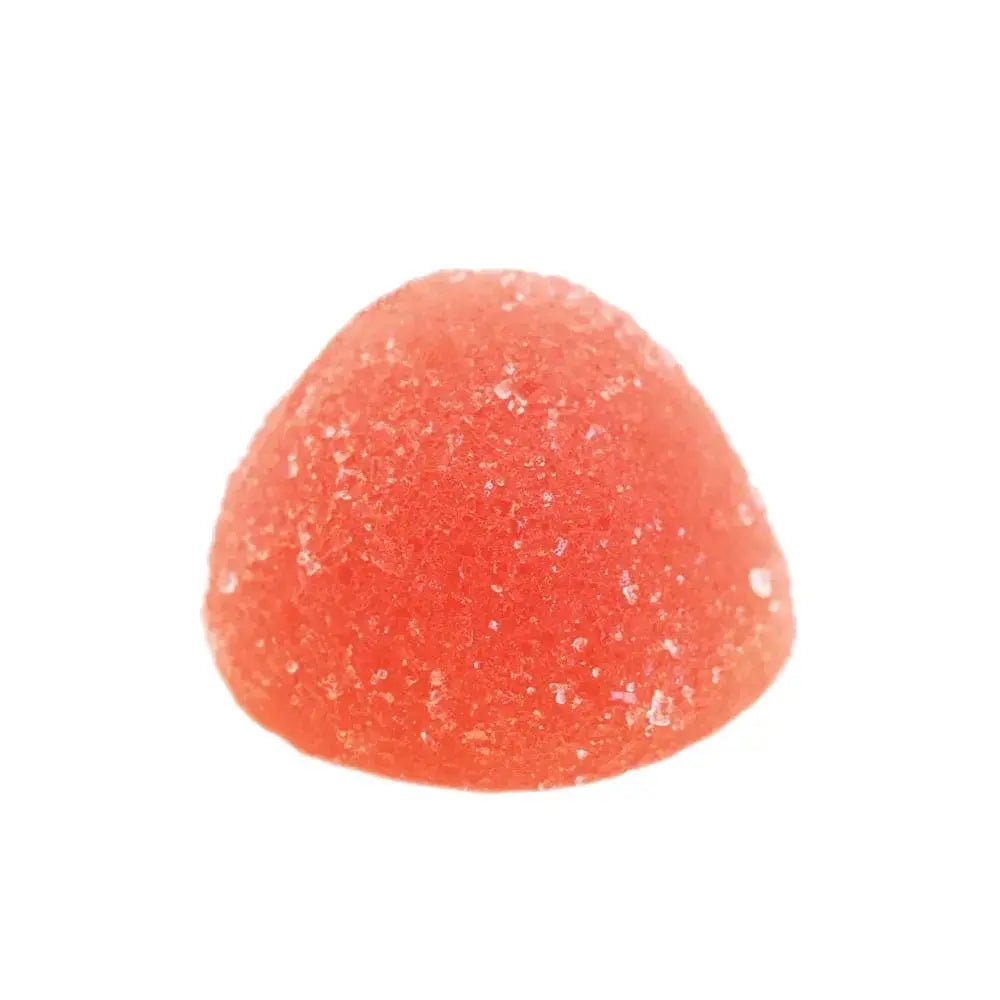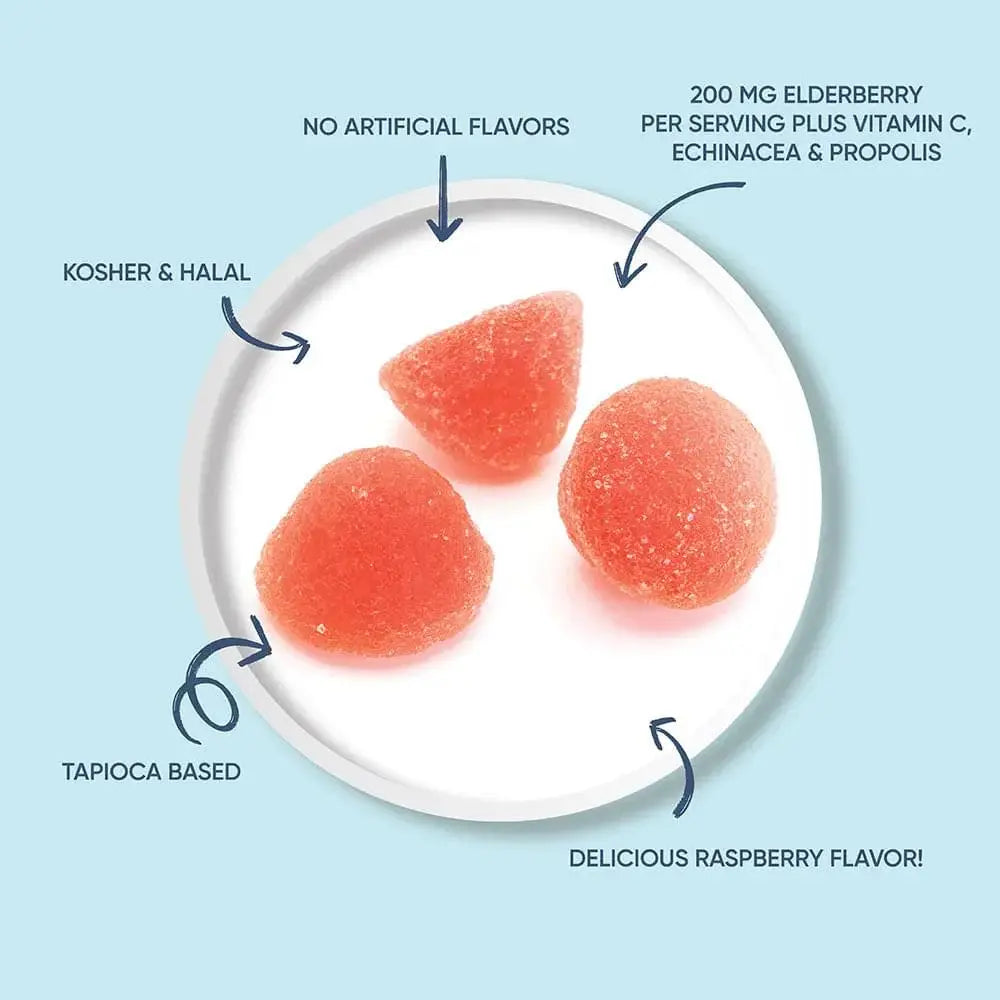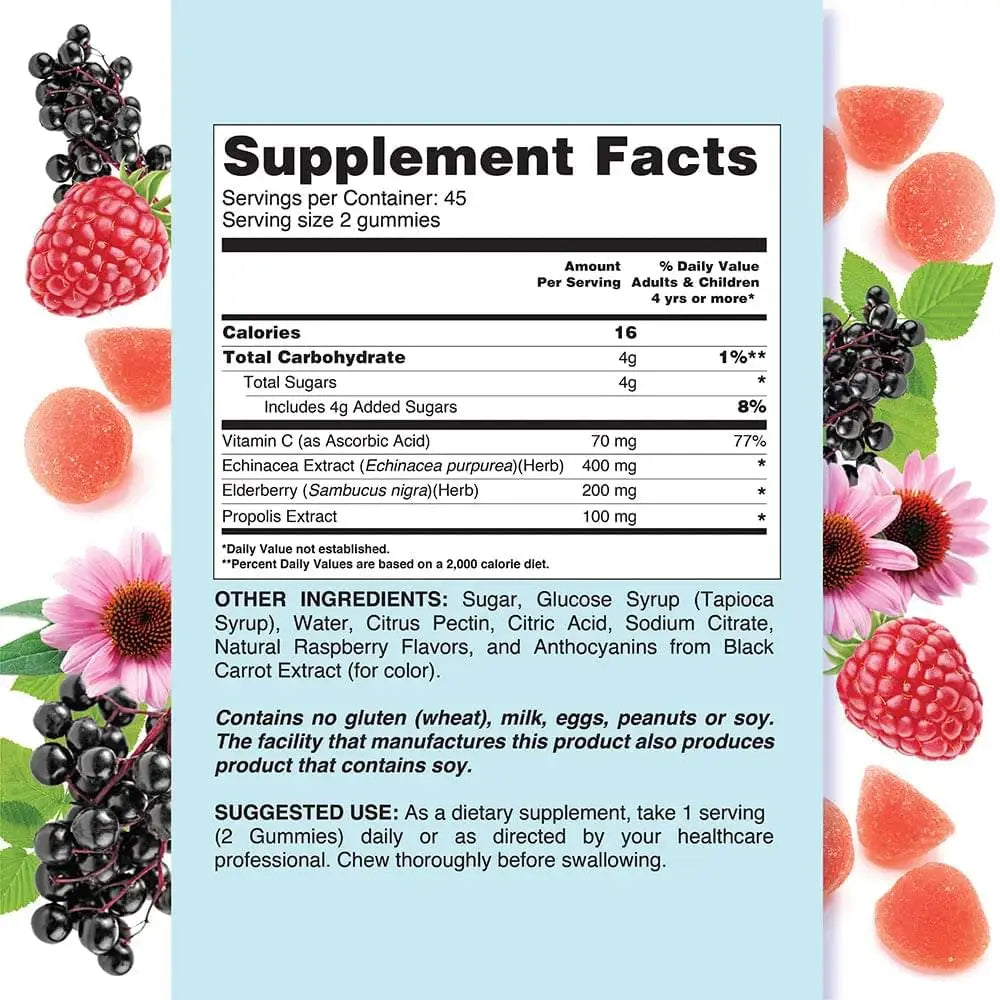 Immune System Gummies
Sale price

$13.99
Regular price

$17.99
(/)
Immune System
LIVS Immune System herbal supplement gummies could help you live a healthier and more nutritionally balanced life! These yummy, raspberry-flavored vitamins support the immune system and healthy cell growth. They may even help to lessen stress, while also protecting your precious heart. Each serving of these gummy vitamins has 200mg of elderberry combined with Vitamin C, echinacea, and propolis. Taking this combination of natural goodness could help manage blood sugar levels, as well as support your body's wound-healing abilities.
Deliciously tart and sweet raspberry flavoring
May prevent and ease cold and flu symptoms
May help tame inflammation
May help antimicrobial properties
Our LIVS gummy immune support vitamins are 100% plant-based/vegetarian, organic, gluten-free, Halal, and Kosher. Plus, they contain no artificial flavors or GMOs. They are packed with the ideal combination of natural ingredients that help keep your body's immune system naturally strong.
Chew 2 gummies daily. No food or water needed. Chew thoroughly before swallowing.
Immune System Vitamins and Supplements
The demand for immune system vitamins and supplements is growing worldwide. According to FMCG Gurus, six out of ten consumers worldwide are making a change to their diet to improve their immune health. While the most common reason for this change is to prevent illness, the growth in interest is also related to being proactive about our health. In this article, we will explore the benefits of immune system vitamins and supplements, and why they're so important to your overall health.
The immune system is responsible for protecting our bodies from illnesses and infections. Without the immune system vitamins, we're more susceptible to getting sick. Vitamin D and vitamin C are essential to keeping your body healthy. While they don't directly fight off infections, they do protect your body from the effects of certain types of illness, such as the common cold. Vitamin D can help boost your immune system and protect you from the common cold, while vitamin C supplements can lower your blood pressure and reduce your risk of heart disease and stroke.
Vitamin A is another essential vitamin for the immune system. It plays an important role in innate and adaptive immunity. It supports the integrity of mucosal tissues and helps maintain the normal function of NK cells. Vitamin A also promotes proper function of T and B lymphocytes, which produce antibodies in response to specific antigens. It may also delay the onset of certain cancers and other aging diseases. 
Other Ingredients: Sugar, Glucose Syrup (Tapioca Syrup), Water, Citrus Pectin, Citric Acid, Sodium Citrate, Natural Raspberry Flavors, and Anthocyanins from Black Carrot Extract (for color).
Immune System Gummies
Sale price

$13.99
Regular price

$17.99
Choose options