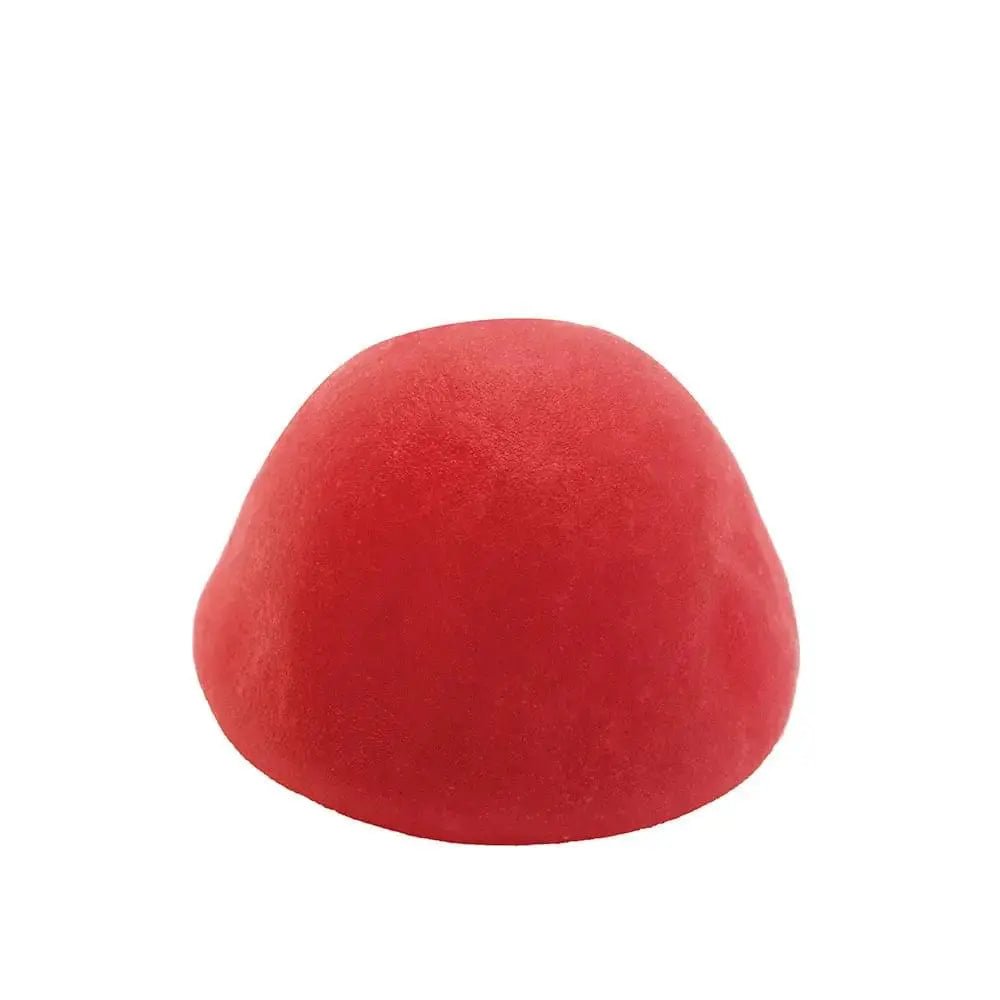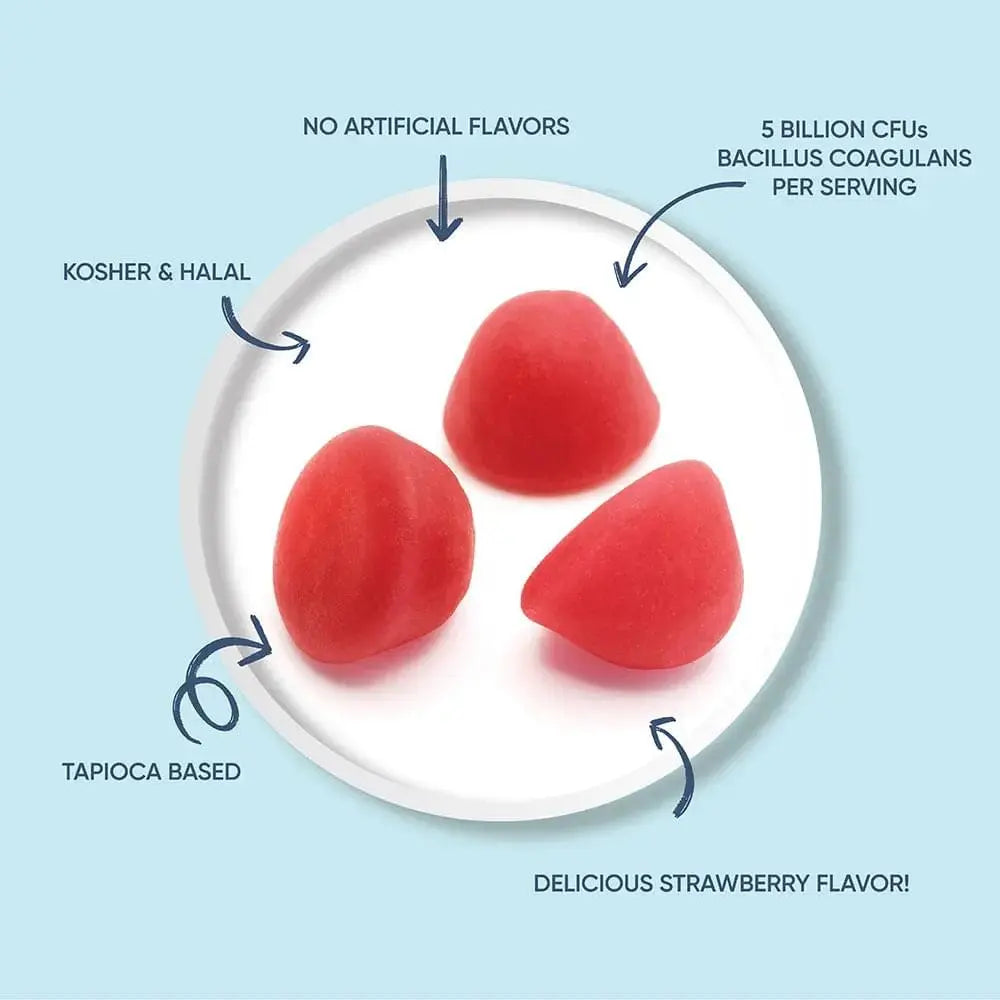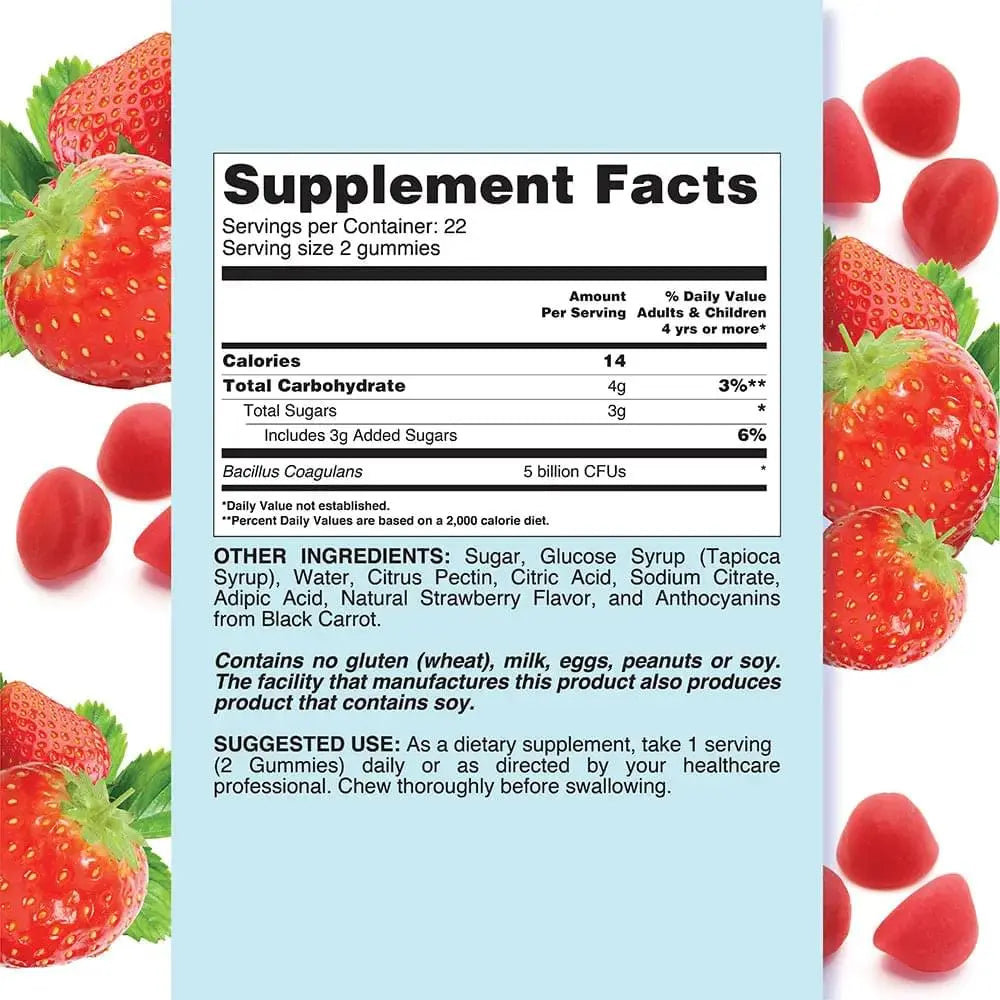 Probiotic Gummies
Sale price

$16.99
Regular price

$22.99
(/)
Probiotic (5 billion CFUs)
LIVS Probiotic gummies are not only delicious but also could help lower depression levels, and that's something to smile about! Our strawberry-flavored Probiotic gummy vitamins contain 5 billion CFU's Bacillus Coagulans per serving. These organic supplements also help to support a healthy digestive system and a good balance of gut bacteria, which could relieve the symptoms of bloating and other stomach issues.
Tasty strawberry vitamins
May support healthy intestinal flora
Supports balance of gut bacteria
At LIVS , we have a very simple mission that lies at the heart of everything we do: to do good and to improve lives. With our complete line of great-tasting, plant-based, tapioca blend, allergen-friendly probiotic gummies, you can finally get the benefits of CFUs without a sour taste. Plus, they are all organic, Halal, Kosher, 100% naturally-flavored, and made without GMOs.
Chew 2 gummies daily. No food or water is needed. Chew thoroughly before swallowing.
Probiotics For Digestive Problems - Benefits
Probiotics are live microorganisms that are claimed to provide health benefits and restore healthy gut flora. 
Probiotics are naturally present in our digestive tract. When taken regularly, they help repopulate our gut with healthy bacteria, which keeps the microbiome in balance. Our bodies contain billions of microbes, but many of them are inactive or harmful. Lack of sleep, antibiotics, a poor diet, and other factors can disrupt our natural microbiome. Probiotics help restore and maintain a healthy microbiome, a vital part of our health.
The importance of maintaining a healthy gut microbiome is not only recognized by scientists. It is also a way to treat diseases like COVID-19 and SARS-CoV-2, which attack the immune system and cause infections. While probiotics are generally considered safe for most people, there are varying regulations for different kinds of probiotics. It is important to choose the right one for your individual health and goals. There are many varieties of probiotic supplements on the market, and they can be confusing.
Before you decide to take a probiotic supplement, it's a good idea to discuss the side effects with a healthcare provider. Your healthcare provider can recommend a suitable probiotic and help you determine the right dosage and time to take it. It's also helpful to read up on the various types of probiotics that are available and the benefits of each. This way, you can make an informed decision. It's always good to know what is best for you and to be aware of any risks.
Other Ingredients: Sugar, Glucose Syrup (Tapioca Syrup), Water, Citrus Pectin, Citric Acid, Sodium Citrate, Adipic Acid, Natural Strawberry Flavor, and Anthocyanins from Black Carrot.
Probiotic Gummies
Sale price

$16.99
Regular price

$22.99
Choose options