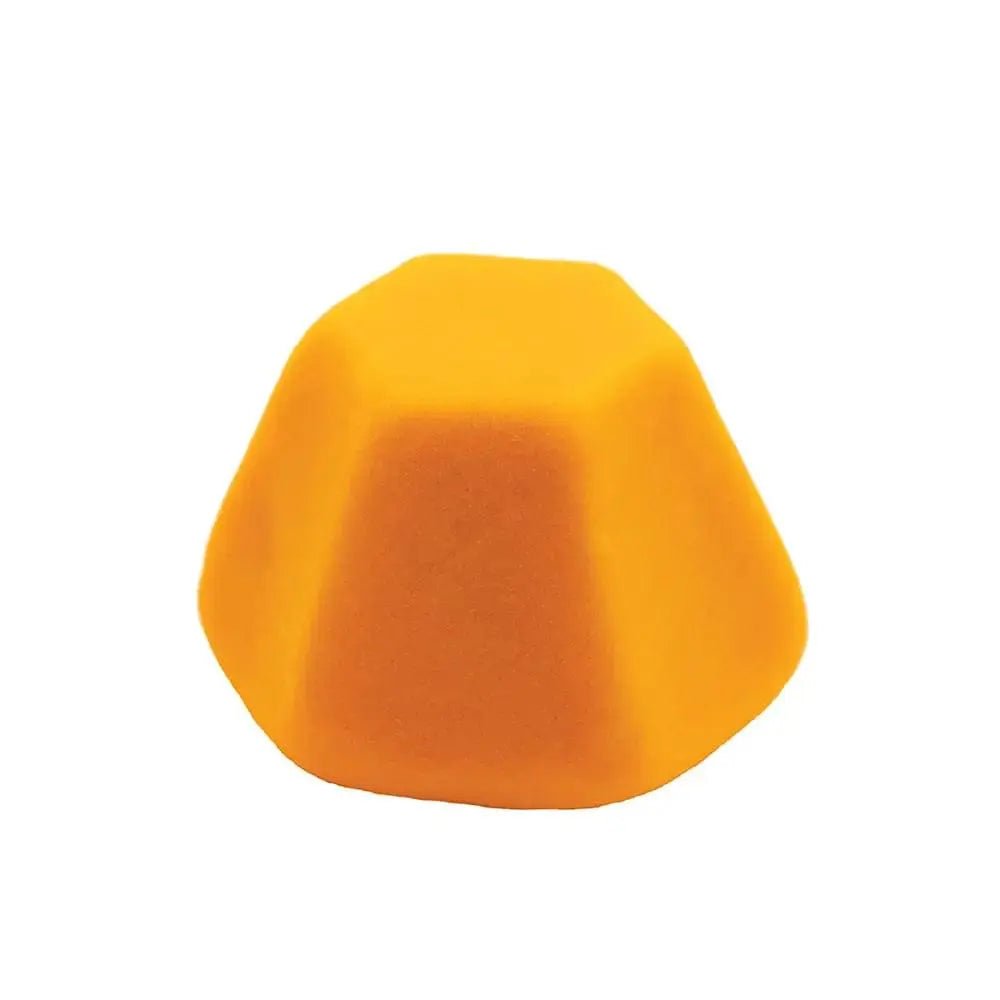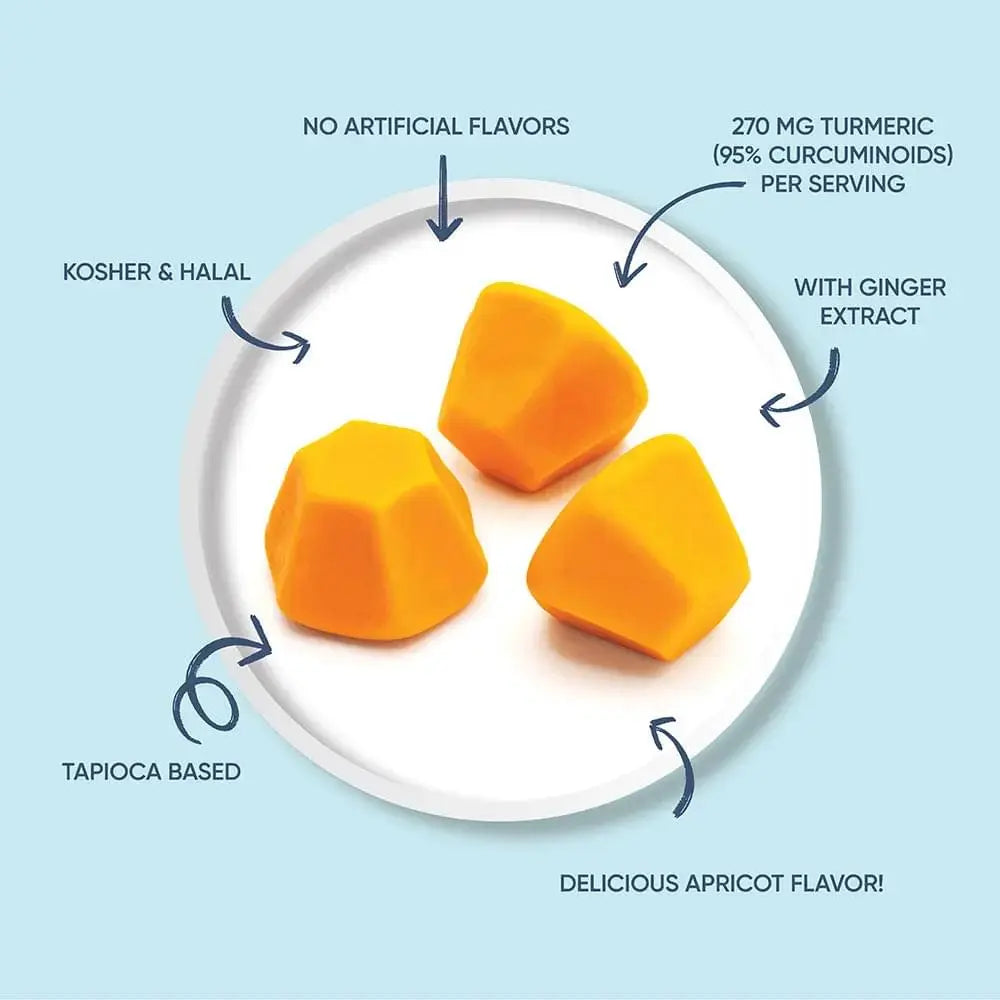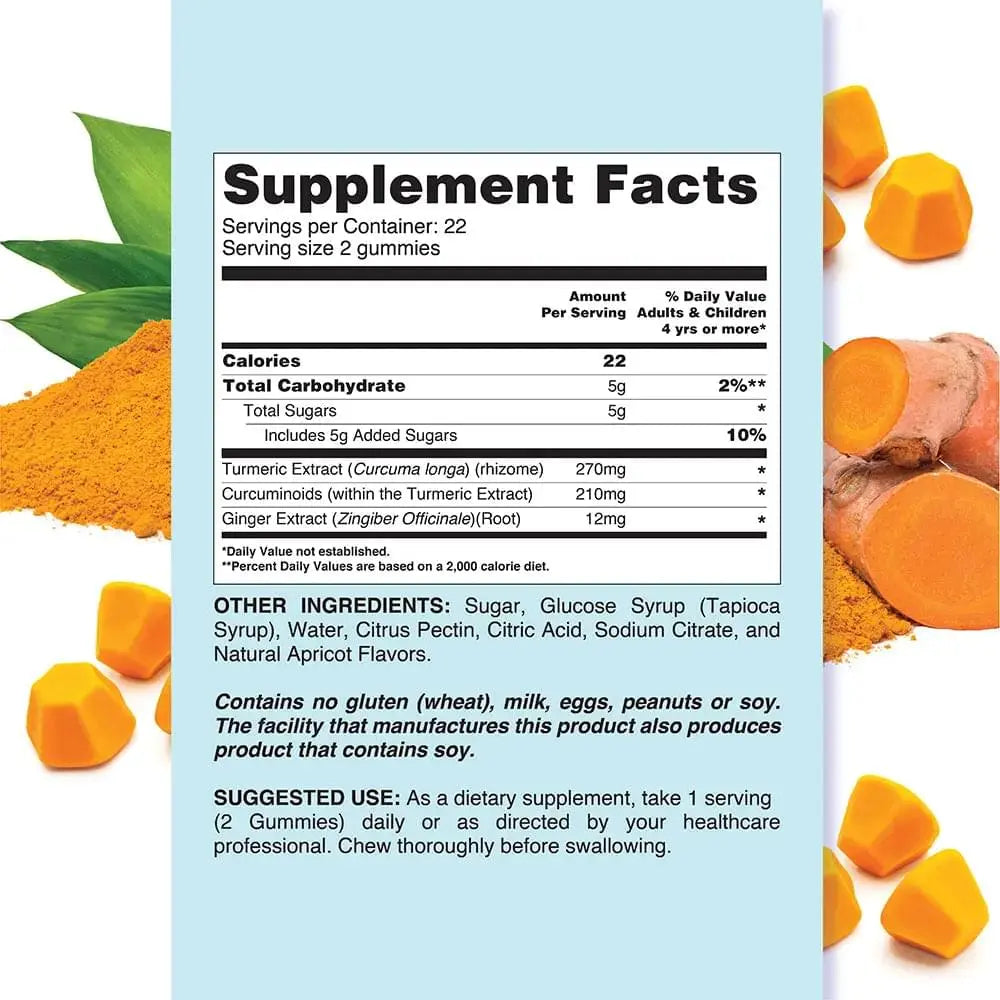 Turmeric & Ginger Gummies
Sale price

$13.99
Regular price

$23.99
(/)
Turmeric & Ginger
These tasty apricot-flavored gummy vitamins not only support a healthy immune system but could also help reinforce joint and muscle health. They are packed with ginger extract and 270mg of turmeric per serving. They are delicious, nutritious, and can also may help support healthy brain function. You can't go wrong with these powerhouse supplement gummy vitamins!
Deliciously rich apricot flavored vitamins
May aid in relieving nausea
Helps promote a healthy immune system
Supports overall cardiovascular health
These herbal supplement gummies are completely organic, gluten-free, vegetarian/plant-based, Halal, Kosher, and naturally-flavored, containing no GMOs. They are designed to support your body's natural defense while tasting amazing and being easy-to-take for all.
Chew 2 gummies daily. No food or water needed. Chew thoroughly before swallowing.
Health Benefits of Turmeric and Ginger Vitamins
In the past, people in India and China have used turmeric and ginger as medicines for their ailments. The two have numerous health benefits, such as antioxidant and anti-inflammatory properties. Ginger is known to have anti-inflammatory properties and turmeric is known to reduce the risk of cancer. Both ginger and turmeric are a good source of these vitamins. Here are the top health benefits of turmeric and ginger. All are excellent sources of antioxidants. Turmeric is also known as 'the golden spice'.
To get more curcumin into the body, you can take turmeric supplements or eat foods containing turmeric. These supplements can also contain piperine, which increases absorption. It is best to use turmeric extract instead of turmeric powder as it contains a higher concentration of curcumin. Although the Food and Drug Administration does not regulate turmeric and ginger supplements, many manufacturers obtain third-party approval from a third-party. This third-party certification will protect you from products with low quality ingredients.
Apart from being rich in antioxidants, ginger is also packed with anti-inflammatory properties. Research conducted in 120 patients with osteoarthritis concluded that taking ginger extract reduced the symptoms of pain and inflammation. In addition, the levels of nitric oxide, a marker of inflammation, were also reduced. Both ginger and turmeric may reduce several markers of inflammation and may be as effective as anti-inflammatory drugs. These are just two of the many health benefits of turmeric and ginger.
Other Ingredients: Sugar, Glucose Syrup (Tapioca Syrup), Water, Citrus Pectin, Citric Acid, Sodium Citrate, and Natural Apricot Flavors.
Turmeric & Ginger Gummies
Sale price

$13.99
Regular price

$23.99
Choose options