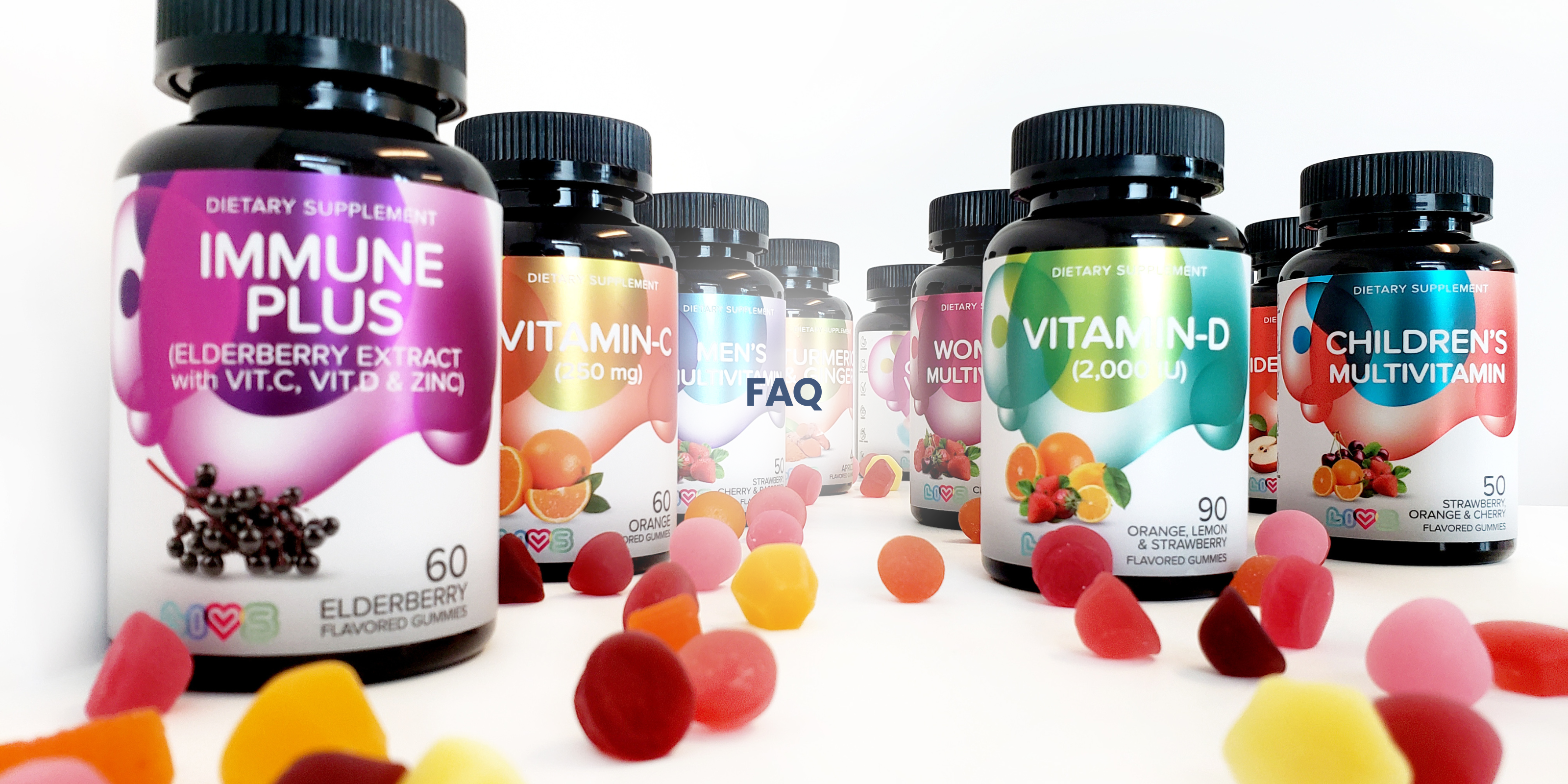 Need help?
Frequently Asked Questions
General
LIVS Gummies offers a wide range of gummy supplements. Although each one has different benefits depending on the ingredients, they are all designed to support your overall health and wellness. Check out our collections page. You'll also find that many of our products have multiple benefits that span across different body systems. For example, our Apple Cider Vinegar Gummies can support healthy detox, digestion, and weight loss!
Gummies aren't just for kids! Many adults prefer gummy vitamins for many reasons. Some people have difficulty swallowing capsules, so gummies are a great option. Even if your only reason is that you like the taste, by all means, go ahead and indulge! We hope that our gummies will bring a smile to your face and bring some fun into your daily routine.
Yes! We offer a variety of products to support your overall health and wellness goals. To make this easier, we've bundled some of our most popular products together, such as our Energy Bundle, Mood Support Bundle, and Immunity Bundle. You can view our complete list of bundles here. We recommend that you double-check with your doctor before starting a nutritional supplement, especially if you have any chronic health conditions or take prescription medications.
Yes! We always recommend that you check with your child's pediatrician before starting any supplement, but we do offer a children's multivitamin gummy to help support their overall wellness. It can also help fill in nutritional gaps, which is especially helpful, especially for picky eaters!
The easiest way to save is by purchasing a bundle where we've packaged three gummy products together for a 20% discount. A second way to save is by signing up to receive emails. This way, you'll be notified of sales and special promotions right in your inbox! You'll also receive 10% off as a thank-you.
You can buy our delicious gummies in both places. Our Amazon shop page features some of our products; however, if you want the best price, you'll want to purchase directly from our site. We can offer better pricing on our website because you're buying direct. We also provide a more comprehensive range of products on our website. 
Quality and Ingredients
At LIVS Gummies, we believe that what you put into your body matters. Because of this, we NEVER compromise on quality! We use the highest quality ingredients from manufacturers who share our commitment to providing only the best to our customers.
Absolutely not! Artificial coloring is made from chemicals and is not proven safe for human consumption. So instead, we use natural colors from natural sources like black carrots and beta carotene. 
No! Our gummies are completely gelatin-free. Instead, we use fruit pectin and tapioca, which allows our gummies to maintain their gummy texture while still being Kosher and Halal.
We are very conscientious of our customers who are allergic or sensitive to gluten. Because of this, we've taken the steps necessary to ensure that our products are gluten-free.
Yes! We do not use gelatin in our formulas. They are entirely plant-based, using fruit pectin and tapioca, making them vegetarian-friendly.
Absolutely not! Our gummies are entirely free of artificial ingredients, including preservatives, artificial flavors, artificial colors, and other chemicals. Our mission is to help you improve your life through high-quality gummy supplements, and using these types of ingredients is directly against what we stand for.
Orders and Customer Service
No worries! We offer a complete satisfaction guarantee. Simply contact us within 30 days, and we will arrange for your product return and provide a full refund.
Although the shipping situation is ever-evolving due to the Covid-19 pandemic, we strive to offer fast shipping on every order. Our goal is that every order is delivered within 2-3 days of placing it.
Absolutely! Every order over $30 automatically receives free shipping. In most cases, this comes out to 2 bottles of LIVS gummies.
No, this website is currently only shipping to the US, but our products are sold all over the world. If you're outside of the US, please contact us, and will provide you with our partners' website depending on your location.
If you have any questions or concerns, please reach out to our customer service team at our Contact Us page.