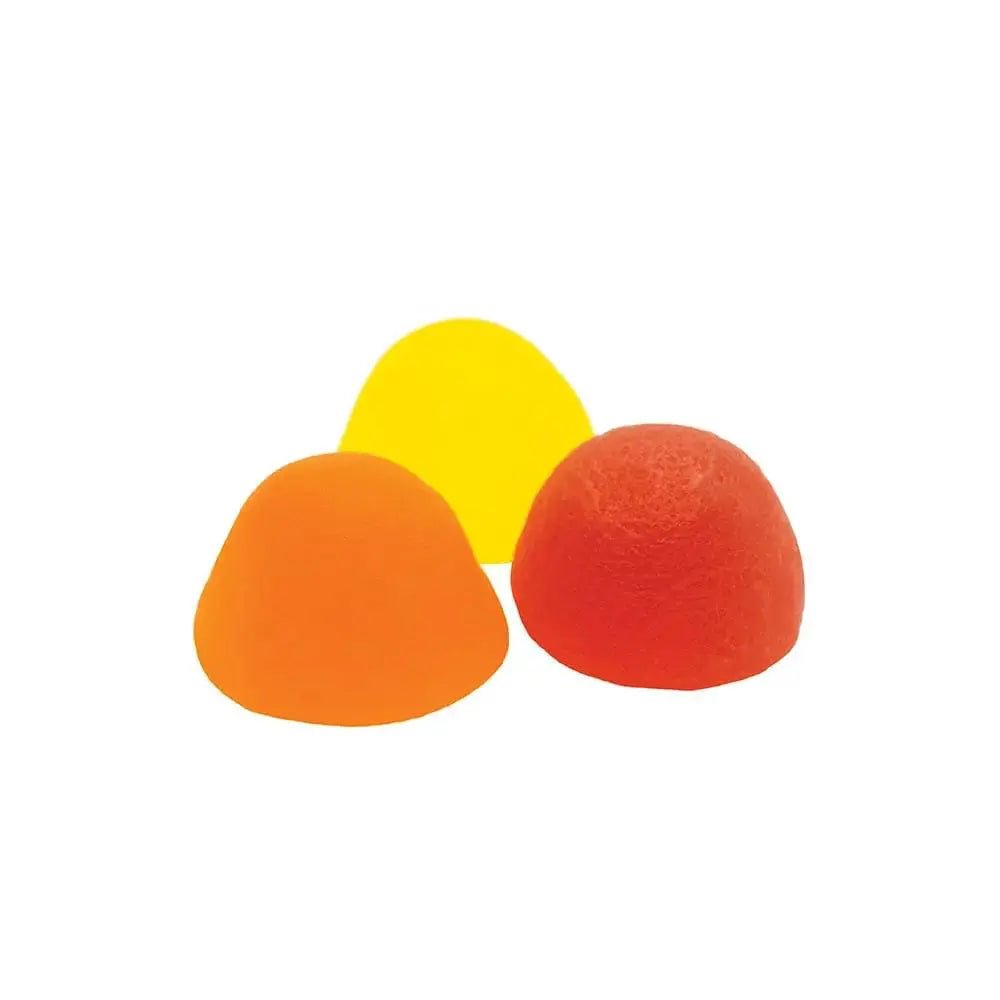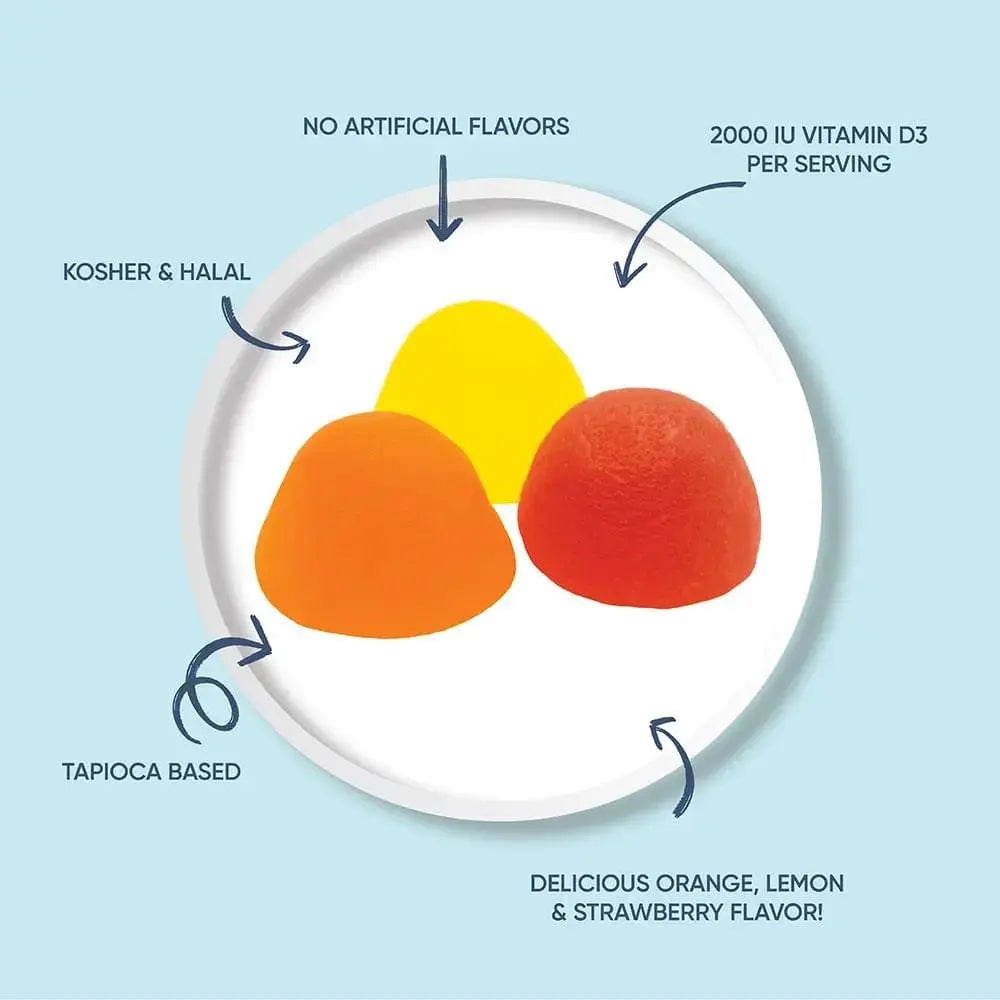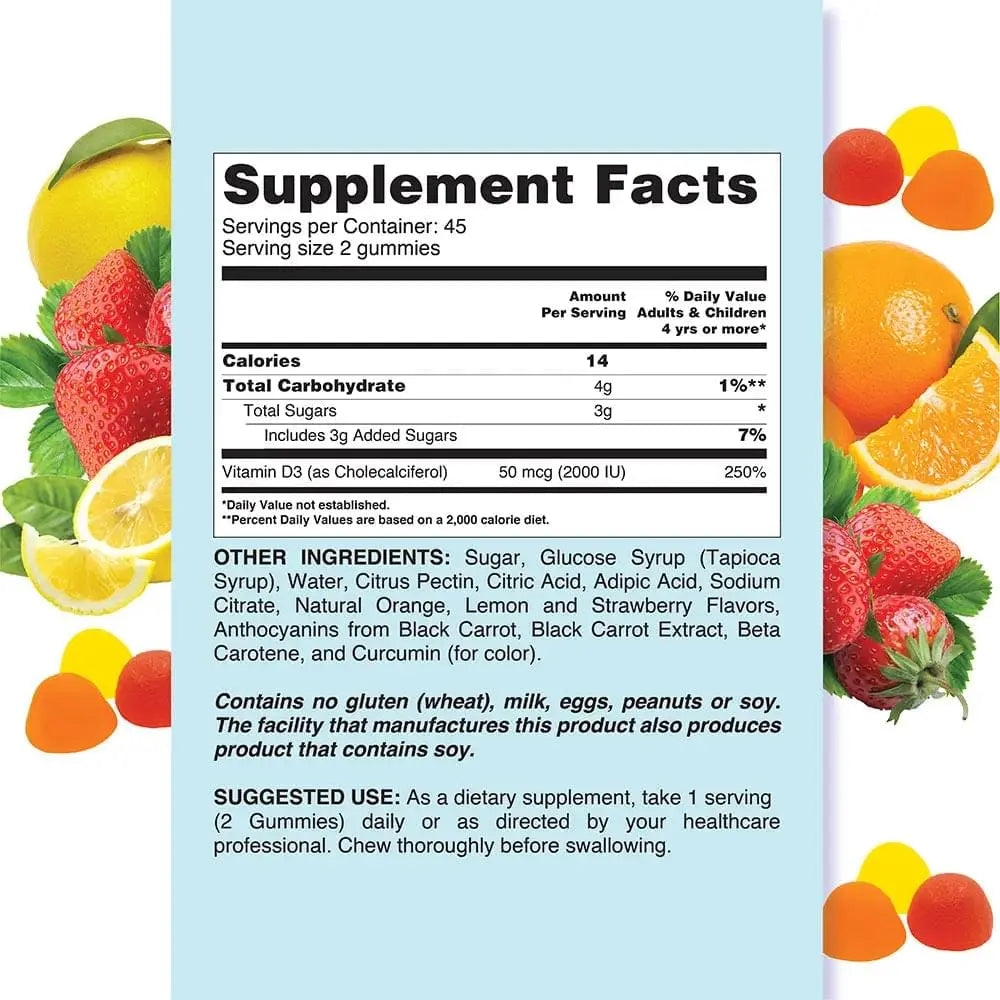 Vitamin D 2,000 IU
Sale price

$14.99
Regular price

$20.99
(/)
Vitamin D (2,000 IU)
You may be surprised to hear that many of us are running a bit low on Vitamin D; this is because many of us have a lifestyle that is primarily conducted indoors. So in addition to letting the sunshine in, you can supplement this vital nutrient with our tasty Vitamin D gummy vitamins. They can help to support your body's natural brain and nervous system functions, as well as help to promote immune system strength and bone health. They may even help with insulin regulation, all while tasting amazing and being easy to take. Chewable Vitamin D gummy vitamins are a great addition to anyone's diet.
Combination of three great flavors in one box: a tart lemon, sweet orange, and delectable strawberry
May help brain and nervous system health
May help with insulin regulation
May help support immune system strength
These gummy vitamins contain 2,000 IU of D3 and are gluten-free, gelatin-free, Halal, Kosher, naturally-flavored, and contain no GMOs.
Chew 2 gummies daily. No food or water needed. Chew thoroughly before swallowing.
The Benefits of Vitamin D
The Endocrine Society recommends taking supplements of vitamin D if your level is below 75 nmol/L (30 ng/mL) (the highest recommended daily value). Adults may need 37.5 to 50 mcg (1,500 to 2,000 IU) a day, while children may need less. The United Kingdom government recommends 10 mcg (400 IU) per day for citizens aged four and older.
While many benefits of vitamin D are well-established, there are several additional health benefits. It reduces inflammation and is important for immune function. It also influences neuromuscular function, glucose metabolism, and cell growth. The body has several gene-encoding proteins that regulate cell proliferation, differentiation, and apoptosis. Many tissues produce vitamin D receptors and convert 25(OH)D into 1,25(OH)2D. The Agency for Healthcare Research and Quality reviews over 250 studies for its recommendation of D intake. 
As we age, our bodies produce less vitamin D. Insufficient levels can lead to many health problems, including parathyroid dysfunction, a common cause of aging. Vitamin D is necessary for the normal development of muscle fibers. Insufficient amounts of vitamin D can affect the strength of muscles and decrease bone density. However, studies have varied results. For example, one recent trial randomized 78 frail and near-frail adults in their late 60s. This study found no difference in muscle strength between groups. Another trial compared 100 community-dwelling men and women with low levels of serum 25(OH)D.
Other Ingredients: Sugar, Glucose Syrup (Tapioca Syrup), Water, Citrus Pectin, Citric Acid, Adipic Acid, Sodium Citrate, Natural Orange, Lemon and Strawberry Flavors, Anthocyanins from Black Carrot, Black Carrot Extract, Beta Carotene, and Curcumin (for color).
Vitamin D 2,000 IU
Sale price

$14.99
Regular price

$20.99
Choose options